If you're planning to have your roof installed or repaired, you might wonder if the work should be completed in the rain. Will rain cause additional damage? Will it lengthen the time needed to finish? How much rain can fall before your roofing project should be postponed? Continue reading to learn more about whether or not you should complete roofing projects in the rain, and what factors should influence your decision.
Understanding Roofing Materials
There are several different materials for roofing that you can choose from when deciding to get a new roof installed on your home. Some of these materials include metal, asphalt shingles, and fiberglass shingles. All of these materials have their own unique qualities, but there are pros and cons to each. For example, metal roofs do last a long time but they're also typically quite expensive and can be difficult to install.
Another factor to consider is how much work you want to be involved in. If you have roofing experience and don't mind doing some or all of your own maintenance, then asphalt shingles are a popular choice because they're relatively inexpensive and easier to install. Fiberglass shingles, on the other hand, are durable and don't need to be replaced as often, but they do require a professional installation.
The Benefits of Having Your Roof Done in Dry Weather
When your roof is completed in dry weather, it can be easier to spot any potential problems that may arise and make corrections before they can cause damage. If you wait for a rainstorm to pass to complete your roof, you run a much higher risk of ignoring issues with shingles or other materials. And repairs done in wet conditions will most likely lead to more costly fixes down the road when it's time to reseal your roof. Plus, having your roof done on a dry day means less water-damage risks from stray drops! The average homeowner spends about $8,585 to install a new roof. With a price tag like that you'll want to make sure it's properly installed.
The best time to have your roof completed is at a time when there's no risk of rain for several days. If you're planning on having new roofing materials installed, it's better to wait a month or two, rather than just a few days if you're trying to install them during a heavy rain season. This way, if you run into any issues with installation and need help from professionals, they can address them without water damage or other complications that may arise from moisture buildup.
Why Roofers Won't Work in the Rain
When it rains, there is a big change in work conditions for roofers. Given how dangerous working on a roof can be, and the fact that much of their time is spent up there during a typical day, most roofers prefer to wait until it's over. Here are some reasons why you might want to think twice about having your roof installed when it's raining
There are many potential hazards involved with working on a roof, so you should do everything possible to eliminate them. It might be better to wait until it stops raining before you get started. If there is an imminent threat of rain, consider waiting until tomorrow or rescheduling altogether.
The weather and climate play a huge role in how quickly and effectively your roofer can work.
It takes skill and training to make sure you don't slip or fall, so it's best to let them do their job and focus on yours. If you still want a second opinion, be sure to ask your roofer why they won't work on a rainy day. Even if it seems obvious to not be on a roof in the rain, roofers might have good reasons that aren't apparent until they explain them.
Risks of Roofing in the Rain
The chance of a minor injury is increased during inclement weather conditions. Additionally, you are at risk for slipping on wet surfaces, and it may be more difficult to properly install your roof if it is raining. All contractors have their own policies regarding whether or not they will complete jobs when it starts raining. When hiring a contractor to complete your project, ask them about their policy and find out what they recommend you do if you are concerned about weather conditions while they are working on your home. If rain is on the radar they may not even start working that day, where others will work until it actually begins raining.
In addition to being a risk for those working on your roof, weather conditions can also affect the quality of your roof installation. If you are hiring a contractor to complete your project, make sure they have properly trained employees that are able to perform under adverse weather conditions. 
If a contractor is only able to complete your project when there are no weather risks, you may want to look into scheduling your roof installation during less rainy seasons. Additionally, you should have an experienced roofer examine your roof and make sure it can handle being exposed to inclement weather until it can be replaced.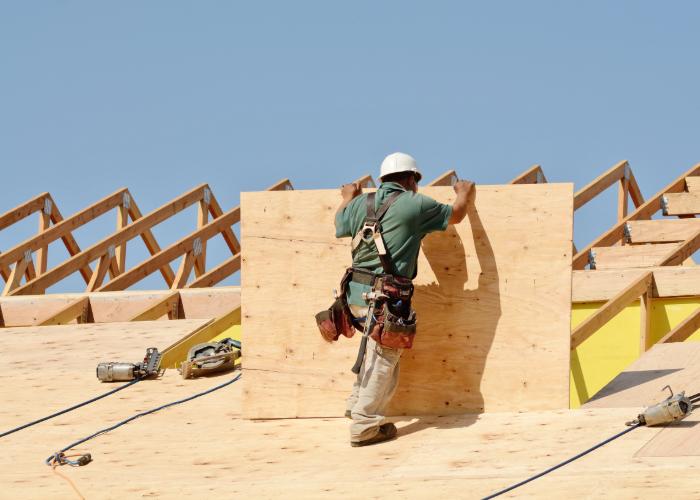 Be Prepared and Flexible
Before you start any roofing project, it's important to keep a few things in mind. First, you need to be ready for extreme weather. If it's going to rain or if it will be too hot or too cold, wait until conditions are more favorable. Second, watch out for lightning—it may make sense to temporarily stop work as well. And lastly, as with many home improvement projects, preparation is key.
Make sure you have all of your materials at hand. If something doesn't go according to plan, don't panic. Just roll with it, learn from it and move forward with a positive attitude. Remember that life is unpredictable, even if things don't go well on one day, there will be another chance next week or next month—and you can be better prepared then.
Furthermore, they will have all of their supplies on hand and they'll be prepared for anything that might happen. They'll also have done their homework ahead of time so they know exactly what to do if something goes wrong when it comes to tarp or any other aspect of your project.
Get in touch with our team at Overland Park Roofing today whether you need roof repair or roof replacement!